Top 5 must eat Dim Sum at Yum Cha
When you go Yum Cha these days to any popular yum cha joints they will have at least 30 to over 50 different types of exotic looking dim sum, stir fried noodles, barbecued meet, sweets and desserts to choose from!
So the question for many first timers or people who are not familiar with the deal, is 'what should I order and where to begin?'
Here is my top 5 pick of the most classic, most popular must eat dim sums for first timers and seasoned yum cha pros alike:
Prawn Dumpling / Har Gao (ha-ga-oo) king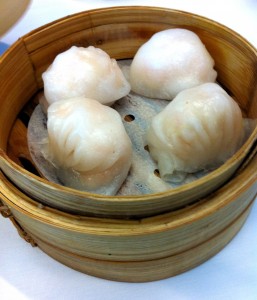 This classic dumpling is one of the most expensive dishes of all dim sum – but it's called king by no accident. Take a bite into this beautiful, crystal clear gem and you'll get rewarded by a mouthful of juicy, tender prawns contrasted with strips of crunchy bamboo shoot and just enough pork to hold the whole filling together. Eat your har gao as soon as it reach your table and don't let it get cold! (But don't put the whole thing in your mouth as they are usually piping hot!)
Siu Mai (see-you-my)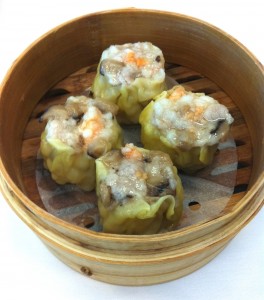 This is also another classic –  it's got very similar ingredients to Har Gao but prepared in a totally different way. Prawn, mushroom and pork mince are delicately wrapped by a thin layer of pastry and steam to perfection. The pastry ensures that all the juices from the pork, prawn and mushroom are wrapped and sealed for maximum juiciness effect.
Steamed rice paper rolls / Cheung Fun (churn-fun)
After having some delicate dim sums, it's time to move onto some warm, slippery yet smooth and filling rice paper rolls. It's so smooth that often you don't even have to chew too much before it slips and slides down your throat. It's one of those things that even people with a sore throat can eat. I suggest trying either cheung fun with prawn filling or if you're sick of prawns already, try beef. Beef filling is my personal favourite as the beef mince is beaten to submission with a bit of pork mince for enhanced flavour. You'd never have guessed it started off as beef mince due to its soft, smooth and silky texture.
BBQ pork bun /char siu bao (cha-seu-bao)

Next on this list is something savoury yet sweet at the same time – barbequed pork buns. This one is also another classic and is my grandpa's favourite – he orders it every time at yum cha (which is nearly every day for him).  Remember to peel off the cooking paper at the bottom of the bun before you eat! Don't laugh, it happens, my uncle thought the paper was part of the bun until he met my aunt.

Egg Tart / Dan Tart (darn-tard)

And finally something sweet to finish off the meal! Due to the 100 years of British occupation of HK, you can't expect to not have at least one HK/British fusion dish at Yum Cha! This is it – an adaptation of the custard tart – this Chinese version uses fluffy, light flaky pastry and is baked with soft creamy egg filling inside.  Some even say that you haven't had yum cha until you finished off with some dan tart.

When you're done with all the eating, make sure you flush it all down with a bit of hot tea, sit back , relax and the rest of the day.